"No Big Deal"
by Mr. Creamjeans
Disclaimer: Photos are strictly incidental and do not
represent the subjects of the story line.
"Hey."
"Hey."
"C'mon in."
That's how things always started when Brad came over to Chuck's house. They'd known each other for years (since high school in fact), they occasionally worked for the same companies, and now they lived in the same run-down apartment complex. Brad came by two or three times a week now.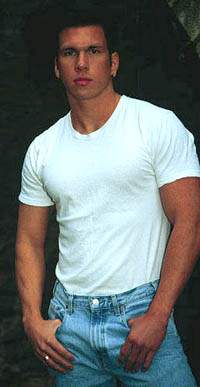 They were two of a kind: large, muscular guys in their mid-20s, both working odd jobs in construction or machine shops, both kind of loners. Since the day they met, they related well to each other, and now they pretty much knew what each other was thinking without having to say much of anything. While they dressed alike – usually Levi's 501 jeans and either plaid shirts or T-shirts – they had very different features. Brad had straight, dirty blond hair, chiseled features and a square jaw. Chuck had dark, curly hair, a heavy brow and prominent nose. Both men had bodies hardened by years of manual labor, so the beers they liked to drink never added an ounce to their physiques.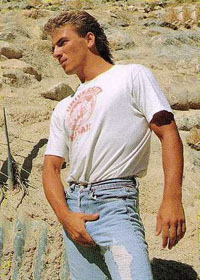 What was peculiar about them was their sexuality. They were constantly horny, often walking around with hard or semi-hard cocks bulging in their jeans, which they were always adjusting, grabbing and groping. They both gave off a very sexy vibe, attracting attention from both guys and girls, attention which they completely ignored.
They were into porn, all kinds of porn. Their favorites were bisexual videos featuring two guys and one girl, but as long as some guy was getting his dick stimulated, they loved it. However, when it came to sexual contact with another person, they were almost asexual. They never touched each other, and they definitely didn't consider themselves gay. They had never even seen each other's cocks (they didn't even peek in the locker room)! But the best description of their relationship would have to be "cum buddies." Not fuck buddies, not suck buddies, not even jack-off buddies.
This strange relationship started shortly after they met. Chuck had found some Super-8 porno movies his father had stashed away in the back of a closet, and told Brad about them at school. He described the pictures on the boxes, and in no time both boys were sporting wood. Chuck said his parents would be away on Saturday and asked Brad to come over to see the movies.
Both boys were hard again as Chuck set up the projector and screen. The movies were beyond the teen boys' imaginations. Their cocks became painfully hard and required adjusting. Each saw the other manipulating his bulge, but nothing was said. Three minutes into the film, almost simultaneously, both boys fired salvo after salvo of hot cum into their jeans. There was no doubt that each had climaxed, they were both breathing heavily, and wet spots spread quickly over their crotches. The air was thick with embarrassment (and the scent of boy-cum).
Chuck was the first to speak. "Um...I guess this was...uh...kinda like those wet dreams, huh?"
"Yeah," Brad said. "I mean, they say it's normal when the stuff comes out when you're asleep. I guess it happens when you're awake, too."
"Yeah. It's just a guy thing. No big deal."
Brad went home shortly afterwards, surprised at how much he was enjoying the feeling of having his boxers filled with jizz. He didn't even bother to change when he got home. Chuck kept his cum-stained jeans on, too.
This was the start of their "love affair" with pornography and sharing it with each other. Whenever they were alone together, they would check out whatever was at hand – Playboy, Hustler, Chuck's dad's movies, dirty novels, you-name-it. They adjusted, groped and pawed their own crotches, but never overtly jacked off. Sometimes one of them would feel the need to comment about their actions.
"Man, I just gotta adjust this thing, ya know?"
"Yeah. It's no big deal. It's not like we're beating off or anything."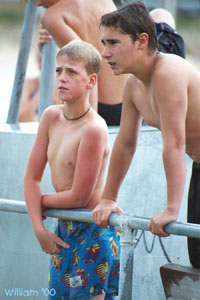 They'd also go out together and see how much groping and adjusting they could get away with in public. They had both seen contruction-worker types grabbing and hauling at their equipment, so they figured it was just what guys did. They'd go to the beach and ogle hot chicks, all the while surreptitiously fondling their cocks. Then, when they'd get home, they'd break out the magazines and work themselves to the point where they'd each have a seminal emission in their pants.
The length of time it would take them to ejaculate would depend on the situation. If they had hours to kill, it could take hours before they'd release their sperm. Other times, it could be just a matter of minutes before one of them would casually let on that he was spilling his seed inside his pants.
"Hm. This book is just too hot. It's making my stuff come out."
"Yeah, I know what you mean. Mine's starting to leak out, too."
Over the years, despite dating various girls, the guys became the main outlet for each other's sexual needs. Their ideas about sexuality and releasing their semen were totally their own, distilled from that first experience and their teenaged ideas about masculine behavior. The result was a dispassionate, almost stoic method for releasing their pent-up cum. The basic rules were:
You can't show your cock to another guy (that would be gay)
You never jack off (only wimps do that)
You can get hard and adjust your bulge whenever you want (that's just a "guy thing")
You "try" to hold your cum, but when you can't any more, it's OK to just let it out (it just can't be helped)
Unless you're with a girl, you can only let your cum out inside your pants (even with a girl, "it happens")
When you let out your cum looking at porn, it's not like climaxing during sex, it's more like an emission (no big deal, just letting your sperm out)
Over the years, their porn technology had progressed from 8mm film to video cassettes to the Internet to DVDs, and their living situations now made it easier to spend hours together relaxing, drinking beer, groping their crotches and eventually releasing their loads. But their basic relationship had changed little since high school.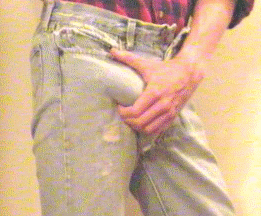 They still enjoyed going out together, too. They liked shooting pool, so they frequented a local bar that had a coin-op pool table. In between shots, their hands would be busy at their crotches, but not enough to call attention to this other game. If anyone studied them closely, they'd probably notice that these guys adjusted themselves more often than your typical blue-collar types, but it wasn't like they were masturbating in public or anything (even though their jeans seemed extraordinarily packed and displayed worn areas around their crotches).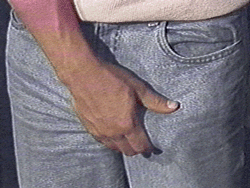 In fact, Brad had actually cum in his jeans a couple of times while they were playing pool. He was a bit more of an exhibitionist than Chuck, and enjoyed secretly stimulating himself (and watching Chuck do the same) to the point where he couldn't stop his semen from escaping into his boxers. (Click his bulge to see him milking sperm into his jeans.)
The guys used to go to strip clubs together, too. They'd sit at the edge of the stage and adjust themselves the way they did while watching porn, but the atmosphere of the strip club made it easier for them to do more rubbing than usual. They really weren't into the strippers so much as the whole idea of being with each other and letting their hot cream come out in their jeans in a public place. They'd always leave with large sperm stains on their pants.
They had recently discovered a strip club that offered lap dancing. This was an expensive luxury on their meager earnings, but it was something they looked forward to and fully enjoyed, not only while they were there, but for days afterwards. They'd take seats next to each other against the wall, and get two girls to dry-hump them at the same time. While they were being masturbated through their jeans, they'd talk to each other, encouraging each other to hold back (which usually had the opposite effect).
"Feels good, don't it?"
"Fuck yeah! She's got me super hard, ya know?"
"Yeah, well, don't go shootin' off in your jeans, man."
"No way I'm gonna shoot. I mean, it might leak out or somethin', but it's not like I'm gonna climax."
"That's cool. Not much you can do if it has to leak out. Wow, this one's real good. You should try her next. She's makin' it real hard to hold back."
"Yeah? Well, I'm havin' enough trouble holdin' back with this one. She really knows how to rub it."
"I know what you mean, man. I'm really tryin' to hold it but... (sigh)... oh well.... Damn. I guess all the holdin' in the world's not gonna do any good."
"You leakin', man?"
"Yeah. You know how it is."
"Is it just, like, drippin' or kind of a flow?"
"Oh, it's flowin' man. It's all gonna have to come out now."
"Yeah, mine just started flowin', too. She's milkin' it all out in my good boxers. Pretty cool, huh?"
"Yeah, it's cool. Gettin' my jeans kinda wet, though. I guess it's no big deal."
Some of the strippers didn't think it was too cool when they felt the wetness soaking through the guys' pants, but that didn't matter to Chuck and Brad. They were convinced that their way of creaming was the way it should be done.
Another thing they liked about the lap dance club was watching how other guys came in their pants. They'd talk about it as they left the club.
"Did you see that one guy in the blue t-shirt?"
"Oh man, he was totally climaxing in his pants in front of everybody."
"Yeah, he was all breathing hard and his face was all scrunched up. That was so funny. That guy was so un-cool!"
"Really! I was just laughing at him. I mean, we had to let our sperm out, too, but we stayed cool. Nobody was watching us having this big orgasm in our pants."
------------------
This particular night, however, the plan was to just stay in and watch Chuck's new DVD. It was their favorite subject matter: two guys and one chick. This meant that all the way through it, there'd be a cock getting some kind of service.
"You want a beer?" Chuck asked.
"Sure. Hey, this DVD looks really hot," Brad said. "I think I saw this guy in another one of your movies."
"Yeah, I think you're right. Go ahead and pop it in."
"Cool."
Chuck walked back into the living room just as Brad was leaning over to insert the disc in the player. The back of his t-shirt rode up and Chuck could see several inches of Brad's boxers.
"Hey man, what are you wearing under your jeans?"
Brad kind of blushed. "Aw, I bought some silk boxers. I just liked the look of 'em."
"Ha ha ha ha," Chuck laughed as he groped his crotch. "No way you're gonna be able to hold back with those on, man!"
"Naw, I don't think it'll be too bad. But I wanted to try 'em out before we went to the club again." Brad conspicuously adjusted his growing cock.
Chuck adjusted himself again and sat down at one end of his shabby couch. Brad grabbed the remote and sat at the other end. He started the movie.
Even before the credits, the sex started in hot and heavy. One of the guys was getting a really hot blow job from the girl.
"Oh man, that's gotta feel great!" Chuck exclaimed as he re-adjusted his swollen meat.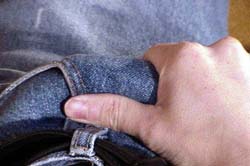 Brad was adjusting, too. "Totally. This movie sure got me boned in a hurry."
"Yeah," Chuck said. "I mean, how could a guy help getting all hard watching this shit?"
"No way."
The guys watched in silence for a while, giving their straining lumps quick grabs, pulls, and squeezes. Finally the guy in the movie offered up the "money shot." Big globs of cum shot all over the girl's face and tits.
"All right! WOOO!" Chuck yelled, yanking and squeezing his rock-hard erection through his jeans. "Look at him go!"
"Holy shit!" Brad said. "He must've had a month of cum in those balls." He, too, was adjusting his cock bulge, but not as intensely as Chuck. His silk boxers were adding an extra bit of stimulation, and he definitely didn't want to let his cum out before the credits.
The guys took pride in their ability to make their sessions last for most, if not all of the movie. When Chuck had double features, these sessions could go on for three hours before they finally released their loads.
The next scene had all three featured actors in it. After some obligatory plot, they were engaged in a three-way. One guy was eating out the chick, and the other was sucking the first guy's cock.
"Damn! There's no way I'd go all homo and suck cock like that," Chuck said.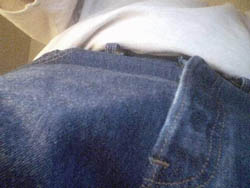 "No way, man," Brad agreed. "But it sure looks like it feels good." Then, as he conspicuously rearranged his cock, he said, "Damn! These boxers are really doing a number on my cock. I just gotta adjust it, ya know?"
"Yeah, don't worry about it," Chuck said as he pushed down on his own lump.
After several more minutes of watching hot sex, Chuck spoke up again. "Aw fuck, my dicks leaking pre-fuck into my jeans. There's a spot now."
Brad allowed himself a quick glance at his buddy's swollen crotch. "Sure is, man. It's a guy thing, ain't it? Not much you can do about it."
"Naw, I guess not."
"Mine's been dripping too, man"
"Yeah?"
"Yeah, my new boxers are gettin' kinda wet."
"Well, just hold back your load, man. You don't want to stain those boxers."
"I'm holdin' it. Don't worry about me."
Fifteen minutes later, both guys had large pre-cum spots over the tips of their trapped cocks. Suddenly there was a knock at the door.
"Now who the fuck's that?" Chuck grumbled as he made his way off the couch to the front door. Without a second thought, Chuck swung the door wide open.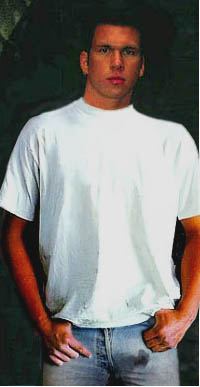 It was Chris, a high school junior from down the hall. Chris had struck up a conversation once when Chuck was down in front of the building working on his truck, and ever since they would occasionally talk and hang out. Chris was a smart, well adjusted teen, but he didn't have a father and had few friends in the building, so hanging out with the hyper-masculine Chuck made him feel cool.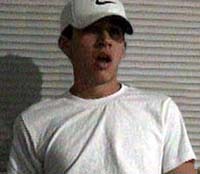 Chuck had never discussed anything sexual with Chris, so imagine Chris's surprise at seeing his neighbor with a massively swollen, wet lump in his jeans. Chris's jaw dropped, and then he let his eyes wander over to the television and saw images of a girl getting royally screwed. He also saw the back of Brad's head.
"Oh, hey...uh...sorry. I didn't know you were busy," Chris said, feeling very awkward. "I'll come back another time."
"Hey, no sweat, Chris," Chuck said, secretly enjoying showing off his stained and bulging jeans to the hapless kid. "Come on in and have a beer. We're just checking out some porno shit."
Beer and porn sounded like a great combo to Chris, so he entered the apartment.
"Chris, that's Brad," Chuck said as he went into the kitchen. "He's been a buddy of mine, like, forever."
Brad turned his attention from the movie and acknowledged the newcomer. "Hey Chris."
"Hi," Chris said, still somewhat uneasy.
Chuck emerged from the kitchen with Chris's beer and handed it to him. "Chris here lives down the hall. He's a pretty cool kid," he said. "So, you wanna come watch this shit for a while?"
"Yeah, OK, I guess," Chris replied.
Chuck took his customary seat at the end of the couch. But since the only other seating in the room was a chair that didn't really face the TV, Chris's only option was to sit between the two older guys.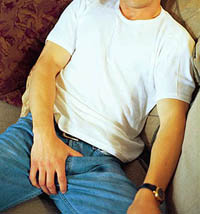 Chuck said, "Yeah, I just got this DVD. It's the first time I've watched it. There's some pretty hot shit." Then, with Chris looking right at him, he reached down and did a major adjustment of his swollen cock through his jeans.
Embarrassed, Chris quickly turned away and looked at the screen. Then, out of the corner of his eye, he saw Brad doing the same thing to his straining meat. Chris didn't really know what to make of all this, so he turned his attention to the movie.
"This chick just asked her boyfriend to bring his buddy over so they could fuck," Brad said, bringing the other guys up to date on the plot. "She is one mean cocksucker." That last remark was about what was going on in the movie at the moment. The girl was sucking and slurping up and down the length of the friend's cock, while the boyfriend was sitting in a chair jacking off.
"Ha! Check that dude out! The guy's all jacking off like a little kid," Chuck said, grabbing his package once again.
"What a wimp," Brad added.
"Man, I'd probably be jacking off if I was in the room with that," Chris said.
"Naw, man, you don't wanna be doin' that," Chuck said. "Beating your meat is so not cool."
"Totally uncool," Brad added.
Chris decided he better not say anything, even though he knew that masturbation was the most normal thing in the world. But now he felt kind of awkward; his cock had become painfully stiff and he was going to have to move it, and soon. Finally he couldn't take it any more and reached down to give it the tug it needed to stretch out.
Both older guys saw this. They leaned forward and looked at each other with grins on their faces.
Chris didn't know what this meant. "I was just adjusting it," he said.
"Hey man, that's totally cool," Brad said. "That's what guys do. Your prick gets all hard in your pants, you gotta move it around some." And with that, both older guys adjusted themselves again.
Chris was having real trouble with the rules here. Jacking off wasn't cool, but apparently playing with your cock through your pants was. He once again fell silent.
Things in the movie were heating up. The buddy was now fucking this guy's girlfriend, and he continued to sit there and pump his cock.
"Aw man, I bet he's gonna totally climax while this other guy's humping his girl," Chuck called out. "C'mon, hold it man!"
"I bet he's gonna squirt all over and waste it," Brad said. "Look at his face. He's getting ready to have a big orgasm from jacking off!"
"Don't you guys have an orgasm when you jack off?" Chris asked.
"Hey man, we never jack off," Brad said with a menacing edge in his voice. "If we gotta let out some sperm and we don't have a chick around, we just let it leak out some. We don't squirt it or nothin'."
"Huh?" Chris said, completely perplexed.
"You ever had a wet dream, man?" Chuck asked. Chris nodded. "Well, it's kinda like that. Your sperm comes out but it's not like you really have an orgasm. And you didn't really cause it, it just happened. That's the only cool way to drain your balls. You just let your sperm leak out 'til it feels better."
"Yeah," Brad continued. "It just sort of dribbles out or maybe it, like, flows, but you never squirt it like... hey! Like this guy's gonna do! Check it out!"
Chuck and Brad had their hands firmly planted on their cock bulges as they hooted and jeered at the boyfriend on the screen who was milking long shots of semen from his hard-on.
"He couldn't hold back!" "He's totally squirting!" "What a wimp!"
Chris was on overload. He was trying to understand all these new ideas, while the images on the screen were causing his cock to jump uncontrollably in his khaki pants. To make matters worse, the pheromones the two studs were giving off, the scent of pre-cum soaking into denim, was triggering a dramatic reaction in Chris's brain and crotch. As the buddy in the video pulled out of the girl and began groaning and squirting cum all over her belly, Chris felt a drop of pre-cum work its way out the tip of his cock and into his cotton boxer-briefs.
"See, that's a real climax," Chuck said. "With a chick."
Chuck and Brad knew that the next scene was going to be the last one in the movie, and if they were going to release their sperm, this would have to be the time. Letting their cream flow usually involved a little more "adjusting" than usual, although in Brad's case, the silk boxers were going to make things easier. Niether one had any reservations about sperming their jeans just because Chris was sitting next to them.
The next scene involved one guy fucking the girl while she sucked off the other guy. This was Chuck and Brad's favorite scenario -- two dicks were getting pleasure. Chris couldn't help notice that their adjustments increased with each passing minute. His own cock was screaming for attention, so he reached down and gave it a squeeze and a tug, just like the older guys were doing.
"That's it, Chris," Chuck said. "It's OK to adjust it like that. And listen, if your sperm has to come out, just let it flow. It's totally cool."
"In my pants?!?!" the shocked boy asked.
"That's the only way, man," Brad replied. "I mean, if you take it out in front of us, that's like totally gay. And if you go to the head to do it, then you're beatin' off. Just go with the flow, man. So your shorts get a little wet. It's no big deal."
"You guys really cum in your pants?" Chris asked.
"Hey, we're always sperming in our jeans. We do it any time we want," Chuck said. "Like Brad said, our shorts get a little wet, but it's no big deal. Guys our age gotta empty our balls all the time, and doin' it in our jeans is the coolest way. Oh man, check this out."
Chuck called their attention to a great close-up of a guy getting head. All three guys on the couch adjusted their boners.
Brad's adjustment lasted a little bit longer, then he took his hand away, sighed, and shook his head. "I think mine's gonna leak out, man."
"Having trouble holding it?" Chuck asked, groping himself.
"Yeah. It really has to come out," Brad said. He sighed and shook his head again. "No way to stop it now."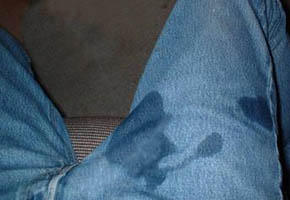 Chris watched, wide eyed, as a dark spot of moisture appeared at the tip of Brad's untouched cock bulge. He was surprised that Brad's hard-on didn't seem to be jumping in his pants at all as the wet stain started expanding and getting shinier. He was even more surprised to hear Brad talking to him in a calm, relaxed voice.
"Hey Chris, you ever wear silk boxers?"
Chris just shook his head as he watched the wet spot on Brad's jeans spread like crazy. Splotches and streamers began to cover the whole top of Brad's thigh as he calmly let a huge mass of hot semen flow from his cock, right into his slippery boxers and jeans. Chris looked into Brad's face and saw no sign that he was experiencing the intense pleasure of sexual release.
"They make it really hard to hold back. I guess I'm gettin' mine all stained up," Brad said.
"You sure are buddy," Chuck said. "But it's cool. You just had to let out your sperm. No big deal." Chuck was squeezing his own bulge as he watched his buddy impassively letting stream after stream of jism leak out into his jeans.
Brad finally looked down. "Woah, I'm really filling up these silk boxers. It just keeps leaking out."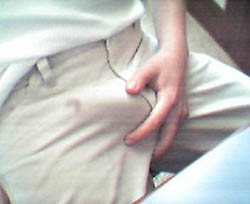 Chris was amazed. He never knew that semen could come out without the orgasmic contractions he always experienced. He knew Brad was letting out cum (and not something else) because he could smell it. His cock was rock-hard and leaking gobs of pre-cum. There was a noticeable wet spot on his khakis. He once again groped his aching boner.
"So Chris, whadja think?" Chuck asked. "That was pretty cool, huh?" Chris nodded dumbly. "Wanna see it again?"
"Huh?" Chris replied.
"Yeah, I think mine's gonna leak out, too, pretty soon," Chuck said. "We've been watching this movie all hard for an hour and a half. I mean, a guy can only take so much and then he's gotta let his sperm out, right?"
Chris heard Chuck sigh just as Brad had done. Then Chuck said, matter of factly, "Aw, there it goes." Chris looked down at Chuck's crotch just in time to see the beginning of Chuck's flow of semen into his jeans. The spot started small and dark, an Chris adjusted himself again. The spot started to grow quickly and Chris grabbed his cock through his khakis. Then some of the white goo from Chuck's gushing cock bubbled through the faded denim. Chris began frantically stroking his boner through his pants.
"Hey man, that's not cool," Brad said. "You can't sit there jacking off like that."
"I can't help it," Chris said through clenched teeth.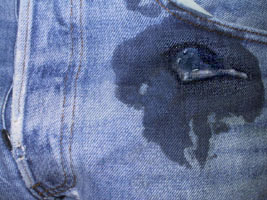 "Just let it go," Chuck said calmly, his burning semen still gushing and flowing freely from the tip of his cock. "Take your hand away and just let your cum leak out a little. Check it out, I'm still creaming in my jeans and I'm not even touching it." Chuck was smiling as he continued quitely enjoying the sensation of filling his pants with slippery wetness.
There was no mistaking that Chuck's jeans were getting wetter and wetter. The stain spread rapidly, and slimy white cum was even running down across the front of his pants. Even Chuck was surprised by the size of this emission, although he'd never show it. He was enjoying putting on a creaming show for his young neighbor, though.
Chris was a bundle of tension as he ripped his hand away from his bucking cock. "Oh God," he cried. "I don't wanna do it in my pants! I gotta take it out!"
"No way, man!" Brad shouted. "You can't whip your cock out in front of us!"
Chris had already frantically undone the button on his khakis. In spite of his desperate state, though, he still heeded Brad's command. "But, but... I... I can't hold it! AWH!"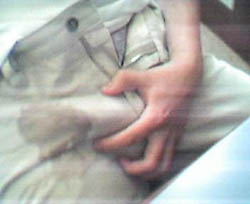 Chris's entire body convulsed with the first shot of hot cream bolted from his tender cock head and into his pants -- something he'd never done before. He couldn't help grabbing the base of his erupting boner, and he desperately wanted to finish off his orgasm by stroking it. But he was trying to play by his friend's rules, so he left his hand in place. Several more spurts filtered through his boxer-briefs and onto the front of his khakis. He couldn't control the heavy contractions that made it so obvious that he was ejaculating, climaxing in front of these two cool older guys.
Brad chuckled and shook his head as he watched the newbie try in vain to emulate their well-developed technique for draining their balls. "Total climax. ... Dude," was all he said.
When Chuck saw Chris shoot off, his prick ejected even more semen into his saturated jeans. The scent of man-cum filled the room as both Chuck and Chris finished creaming their pants. Chuck turned off the DVD.
"Hey, that was pretty cool, Chris. We gotta get you so you don't jack off like that any more, but any time you wanna come over and spill some sperm over some hot videos, just let me know," Chuck said.
Chris was sweaty and weak from his massive ejaculation. The front of his khakis was soaking wet. "Oh shit, how an I gonna hide this from my folks?" he moaned.
Thinking quickly, Chuck asked, "You got an old fashioned turntable?"
"Yeah."
Chuck went over the shelves and pulled out a Rolling Stones album. "This should cover the problem. And if they ask, tell 'em I loaned you some classic rock and roll."
---
All rights reserved. Posting on sites other than
CreamInYourJeans.com should not be done
without the express permission of the author.